Month:
November 2016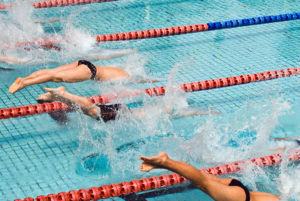 While not "technically" an Ornament Story, this submission was too good not to post. Hope you enjoy it! — Editors
By KRCG, Merion, PA
The light blue water was waiting for me as I looked down. Laura had told me diving off the block was scary, but I did not think it was this scary. I waited for the whistle to blow. It seemed like three hours when the starter announced my name. Then I heard it. The whistle. The dreaded whistle.
"Swimmers step up," said the starter. I stepped up on the slippery white block and looked at the pool. Why? I thought. "Swimmers take your mark," said the starter. I bent my legs and held the edge as tight as I could. I prayed as much as I could to win this race. A six-year-old, in an eight-year-old race, and going off the block for the first time ever, this was going to be a show.
I looked down trying to relax, waiting for the loud beep, which was my cue to jump into the water. To my right, a girl jumped off the block into one of the most terrible stream lines I have ever seen. I guess I didn't hear the beep! I quickly jumped off, not in a dive but feet first, in a total state of panic. I was trying to do the correct strokes, between the water and my cap I could barely hear anything, yet I could hear the faint screams of people saying Stop! Stop! So I quickly stopped trying to swim, kicked to the surface and there were two girls still on the block, and including me, four girls in the water. False start. Oh brother, I thought.
I hopped out, the icy cold water dripping from my bathing suit. The boys group went before my heat so we could catch our breath. Then of course that darn whistle again! I stepped back up on the block. Now, I know what to do I told myself in my head. "Swimmers take your mark," I bent down for the second time clutching the edge of the block. Beep! Everything went so fast, I pushed off the block with all my might and tightened my arms around my head, locked my legs together (and made sure my toes were pointed), and I hit the water with so much energy I had no clue what was going on. I kicked my legs as hard as I could, brought each arm up and down, This isn't that hard, I thought. I saw the wall coming closer and closer. Almost……there……YES! I hit the wall with my loose fingers.
As I took my head out of the water and looked up I realized: I didn't come in first, but I did come in second! My first race ever, second place, and a six-year-old too! I climbed out happy as I could be, I was determined to win at the next JV meet. I reminisced the jumping off the block and hitting the water. I am so doing that again, at the meet and at practice the next morning. My mom came over with a towel and gave me a big hug and was asking me questions about the race. Still dripping wet (and shaking a little too), I then looked to my right and saw my coach, Laura.
"Katherine, that was awesome! Maybe you can swim in the next Varsity meet!"  
Oh, brother.