Month:
August 2015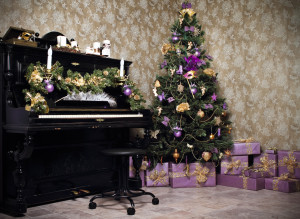 By Bernie S., Upper Darby, PA
A baby grand piano ornament — black and shiny — reminds me of my love for Beethoven. I play in my local community orchestra. One year we decided to do Beethoven's 9th symphony. One of the greatest pieces of music ever written.
We practiced almost every night wanting to get it right for the spring concert at the community center. The practice times were tough as I needed to work around my schedule as a pharmacist at our local super drug store. You know them — they have taken over every community and have everything from marshmallows to fishing rods.
The piano was my sideline. My parents paid for lessons and I faithfully took them, never really embracing the piano. I tinkered. I dabbled. I enjoyed playing for friends much of the popular music and also Christmas carols for the family.
Classical music was not my interest either. That was not until I saw my first Electric Light Orchestra concert. As the band opened and I saw the first lasers hit the cello and explode in bright colors and designs I was hooked. Mixing rock and classical music. I began migrating from exclusively going to rock concerts at the Spectrum to the Philadelphia Orchestra at the Academy of Music.
I bounced from ELO to Verdi. From Pink Floyd to Wagner. From Jethro Tull to Tchaikovsky. From Yes to Vivaldi. But I never fully respected the piano or music until I went to see the Philadelphia Orchestra when it played Beethoven's ninth symphony.
Wow. The tempo. The changes in mood. The lively strings. The constancy of the piano. Everything was perfect. As perfect a piece of music as I had heard. I went home that night and began playing on the piano. Digging through  my music. Tossing aside dozens of other pieces. Mozart — love him, but not now. Schubert. Classy. Not now. Brahms. Please — make me fall asleep. I needed to find Beethoven.
I knew I had it. I needed to find it while I was still inspired. Finally tossing aside composer after composer. Popular music. Big band music. Broadway show scores.
I was starting to get frantic — I knew I had it — somewhere.
I found it! An almost brand new copy of the music — Beethoven's Ninth Symphony. I tore at the book. Sat at the upright, old piano in my house and began playing. And playing. And playing. Oh man was it great. I could feel each note. Hear each nuance. Understand what Beethoven was trying to communicate.
From that moment I dedicated  myself to knowing the music. Playing it with my heart and soul. Our local community orchestra was going to perform the symphony. I auditioned and earned the right to play the piano. I invited family, friends, co-workers to see me.
It was a great night. Packed house. The hours of practice would be worth it. The orchestra was perfect that night. Every note.  Every movement. Every fortissimo and pianissimo was right on. Each point and counterpoint executed to perfection.
Our conductor had a local grade school choir sing "Joyful. Joyful," forgoing the traditional "Ode to Joy" — it absolutely brought the house down. I can say that I was filling up as the kids sang and me and my fellow musicians brought the symphony to its close.
Joyful, joyful, we adore You,
God of glory, Lord of love;
Hearts unfold like flow'rs before You,
Op'ning to the sun above.
Melt the clouds of sin and sadness;
Drive the dark of doubt away;
Giver of immortal gladness,
Fill us with the light of day!
All Your works with joy surround You,
Earth and heav'n reflect Your rays,
Stars and angels sing around You,
Center of unbroken praise;
Field and forest, vale and mountain,
Flow'ry meadow, flashing sea,
Chanting bird and flowing fountain
Praising You eternally!
Always giving and forgiving,
Ever blessing, ever blest,
Well-spring of the joy of living,
Ocean-depth of happy rest!
Loving Father, Christ our Brother,
Let Your light upon us shine;
Teach us how to love each other,
Lift us to the joy divine.
Mortals, join the mighty chorus,
Which the morning stars began;
God's own love is reigning o'er us,
Joining people hand in hand.
Ever singing, march we onward,
Victors in the midst of strife;
Joyful music leads us sunward
In the triumph song of life.
The crowd loved it. I loved it. The other members of the orchestra loved it. The kids loved it.
That night I WAS Beethoven! Someday I will get that baby grand piano to play. But until then I will have my black, shiny baby grand piano ornament to remind me of the night I played Beethoven's Ninth symphony.
Music is one of the most wonderful aspects of the holiday season — and in any season. Settlement Music School's mission is to provide the highest quality instruction in music and the related arts to children and adults, regardless of age, background, ability or economic circumstances. Settlement's broad range of programs, taught by highly credentialed and dedicated faculty, help students achieve artistic, educational and social goals.
Learn more about Settlement Music School at www.smsmusic.org
Send your comments to info@myornamentstory.com
Don't forget to submit Your Ornament Story or your favorite recipe!